iSURVEY iPad and iPhone Survey App
iSURVEY - The reliable offline data collection app that supports unlimited devices. Download the iPad and iPhone Survey App from the App Store.
Features:
OFFLINE – ISURVEY does not need an internet connection while you collect data. Securely store the results on one or multiple iPad and iPhone devices and sync when you have an internet connection.


UNLIMITED DEVICES – there is no charge for the number of devices that you use with your surveys. Have you got tens or hundreds of iPad and iPhone devices? The web site provides easy grouping and management of your devices.


MULTIPLE SURVEYS ON A DEVICE – you can have as many iPad and iPhone surveys as you like on your devices. Just change to a different survey when you need to. No internet connection required!


QUESTION TYPES – iSURVEY supports Validated Email, Single and Multi Select with Other and None of the Above, Selectable and Static Images, Single Select and Multi-Select grids, Signatures, Photo Capture, Ranking, QR Codes and Barcodes.


MULTI-LINGUAL - iSURVEY supports English, Spanish, French, Portuguese, German, Dutch, Simplified Chinese, Arabic, Italian, Danish, Finnish, Farsi, Pashtun. If you need another language just let us know.

ALL DEVICE TYPES – iSURVEY has been optimized to work on iPads and iPad Minis but is great on iPhones and the iPod Touch as well. You can also run a survey on Android devices.


AUTOMATIC UPLOAD – iSURVEY can automatically upload results when your device has an internet connection. Alternatively, you can upload results manually at your convenience.


SURVEY CREATION - Sophisticated iPad and iPhone survey creation on the website using our intuitive easy to use tools including an in page previewer that shows how the survey will look without loading it on your device.


SPSS and CSV – download your results in the SPSS or CSV format.


CHARTING – get immediate insight into how your survey is progressing as the results come in.

GPS – you can set up your survey to record GPS Longitude and Latitude co-ordinates of your survey device. The survey GPS co-ordinates can be downloaded in the CSV file format or mapped using on-line maps.

KIOSK MODE – use your iPad as a kiosk. iSURVEY supports automatic restarting of the survey if it is idle for a given length of time. Either save or discard the partial results when a survey is abandoned – you choose.

HOT ANSWERS – set up an email address to receive instant alerts when a particular answer is uploaded to the iSURVEY server.

BRANDING – the iPad and iPhone survey app supports custom color themes. Display your own branding and background images.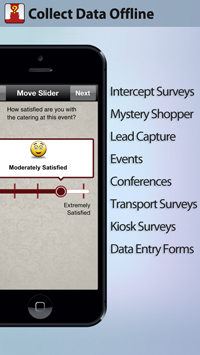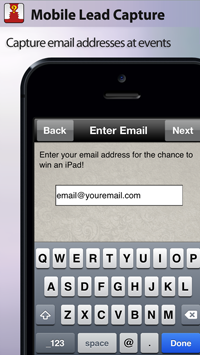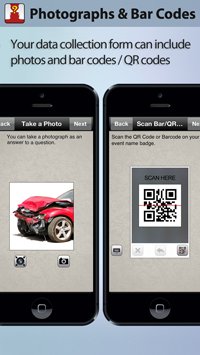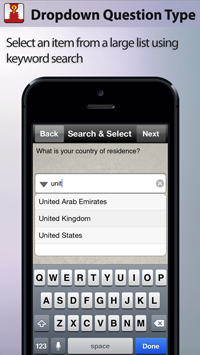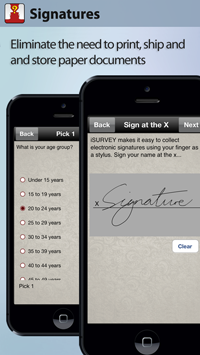 What our iPad & iPhone Survey App Customers Have to Say
I have been using these app to run several surveys for our clients. Its incredibly easy to use a d the fact that the field team can use their own phones its even better. Not just that but costumer service is fantastic. Highly recommended. Easy to use and affordable, best option out there by far!
by Times snow - Version - 0 - Mar 2, 2015
This is the real deal. A very intuitive portal to design simple or complex surveys that really works on all your iOS devices. Love the kiosk mode. Reporting function exceptional. If it could allow users to customise the welcome and finish screen even more that would be great.
by ClockCroc - Version - 2.12.2 - Feb 3, 2015
What an awesome application, I searched high and wide for an offline data collection App that I could brand with my own IP etc and this was a perfect fit to help with my market research. Love the ability to assign the surveys to multiple devices to help spread the load too! Support from the guy who wrote this (Steve) almost felt like real time too and he was able to get me on the right track with a handful of things that I needed to do. Can't recommend highly enough and plan to continue using this app throughout the life of my project...
by Richard K Maguire - Version - 2.12.1 - Dec 15, 2014
This app is absolutely perfect for me to deliver a survey to my customers, that understands their performance to their customers. The website enables me to tailor the surveys to each individual customer and to create questions that are completely relevant to what that customer is delivering to their customers. The tailoring part of the process has been made really easy through the website, and then sending this to the iPad for the survey to take part is simple. The results are then delivered back to the website inand easy to process form - Overall this is a 5 star app and the interface with the website is failsafe, secure and simple. - I would recomment this app and the website process to anyone who wants to deliver a survey to results end to end process.
by Rob - Connections Services - Version - 2.11.32 - Nov 17, 2014
Having just picked this product up, I have been able to set-up, automate and distribute a number of inspection records and checklists to both an iPad and Samsung Galaxy Tab 3 in less than 1 hour. The backoffice is simple and easy to get to grips with and the end result is exactly what my company are looking for! I am now starting to explore the opportunities a little more with the team in NZ and I have found them to be flexible, engaging, supportive and responsive - what more could you ask for?
by Cantfindafreenicknamezzz - Version - 2.11.3 - Oct 22, 2013
We are currently using the iSurvey application for a large research study examining pain trajectories in children after surgery, on iPod Touch devices. The iSurvey application has been ideal for our purposes. The application design has been well thought out and survey design options are extremely flexible, allowing us to tailor it exactly to our needs, even with a basic level of technical expertise. The ability to store data offline means that children can take the devices with them and reliably enter results even without an internet connection, helping us minimise missing data in our dataset. Our feedback from survey participants has also indicated that the application is reliable, simple to understand and easy to use, helping ensure that our participants do not drop out from the study! In particular, I'd like to mention the brilliant customer support that we've received. We submitted an enquiry through their online form and received a comprehensive and detailed reply within a few hours. The staff have been always willing to help and this has definitely made our experience a much easier and a much better one. iSurvey has been absolutely fantastic for our purposes - both the application itself and the customer service and support we've received. Would highly recommend to other users - thank you!
by David & Alex - Version - 2.11.13 - Mar 29, 2014
We have used iSURVEY for the past 12 months in remote locations throughout the Northern Territory of Australia. The option to collect data offline makes it easy for the project team using the iPad in remote areas without mobile telephone coverage or access to wifi internet. The data can then be uploaded easily from the nearest regional centre or upon return to our main office from mulitiple devices. I can recommend this product to anyone working in the remote context. iSURVEY have been extremely responsive to all of our queries and requests for assistance with the use of this product.
by Remote__Researcher - Version - 2.11.10 - Jan 8, 2014